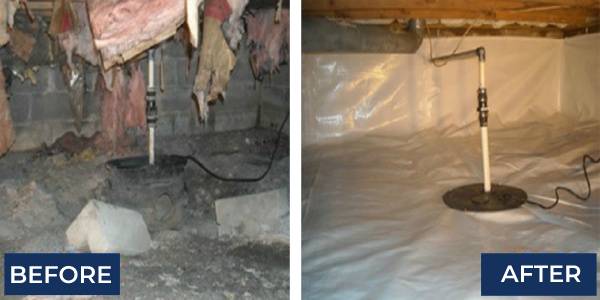 What is Crawl Space Encapsulation?
Crawl space encapsulation protects the area from humid air and ground moisture. Crawl spaces are notorious for moisture-related issues, particularly in the Seattle area, where we experience high humidity and frequent rainfall.
The concept is to seal in the crawl space with a heavy-duty plastic vapor barrier which is placed on the floor. Foundation vents and walls are sealed. Finally, a crawl space dehumidifier is installed to regulate the moisture levels.
What are the Signs of Problems in the Crawl Space?
1. Signs of Crawlspace Issues
Some indications of problems are evident from inside your first floor living areas, such as:
cold floor
high humidity
condensation around door frames
musty smell
uneven floors
higher energy bills
2. Inspect the Crawl Space
Upon noticing several of these clues, you might want to examine the crawl space. Look for:
mold
rotted wood
pest infestations
cracks along walls
damaged, hanging or fallen insulation
condensation on equipment
What is the Purpose of a Crawlspace?
The crawl space plays a fundamental role in your house's design. This dark, cramped place under your house accommodates your HVAC ducts, electrical wiring, plumbing, and other essential fixtures. Damage from mold growth and pest-infestations not only decrease your home's energy efficiency, but it produces musty odors and causes potential risk to the structural integrity of your home.
When is Crawl Space Encapsulation Done?
Encapsulation is performed after crawl space cleaning and repair. It prevents future moisture-related damage from:
groundwater and flooding
outside humidity and sweating from your HVAC ducts
dampness from the ground under your house
Reasons for Crawl Space Repair
Each of these benefits make your life more comfortable:
Prevent future moisture damage
Control mold and fungal growth
Improve indoor air quality
Warmer floors
Less pest-friendly environment
Lower energy costs
We Do the Job Right
For encapsulation to work correctly, it must be installed properly. If any aspect of the encapsulation is done incorrectly, it won't achieve the goal of keeping your crawl space clean and dry. And failure to follow best practices could even create a hazard in your home!
The crawl space must be sealable. All openings will be covered with a plastic vapor barrier, spray foam or foam board.
The space must be cleaned and cleared. Inspect for mold and repair damage before encapsulation.
Prepare for possible flooding with a water drainage system. It can be a simple gravel-filled French drain or a sump pump.
Use the right product. Fiberglass insulation, for instance, works poorly in crawl spaces.
Check that your gas-burning appliances and fireplace are NOT venting into the crawl space.
As you can see, there are many steps in the process, and each one requires specific tools and materials, as well as expertise. Trust the professionals at Croach® to update your home's foundation with crawl space encapsulation.
---
Seattle Service Area
We provide services across Seattle including Anacortes, Arlington, Auburn, Bellevue, Bellingham, Bonney Lake, Bothell, Buckley, Burlington, Camano Island, Everett, Federal Way, Ferndale, Issaquah, Kent, Kirkland, La Conner, Lakewood, Lynden, Lynnwood, Marysville, Monroe, Mount Vernon, Mukilteo, Oak Harbor, Olympia, Puyallup, Redmond, Renton, Seattle, Sedro-Woolley, Snohomish, Stanwood, Sumner, and Tacoma.
Licensed, Bonded, Insured
Washington Pest Control License #82060
Washington Contractor License #CCPESTFF*894K4
Schedule your free crawl space encapsulation inspection today.
---
Free Crawl Space Inspection