Bed Bug Exterminator near Salt Lake City, UT
With Croach® pest control's bed bug exterminator services you'll get peaceful slumber in a pest-free home.
✓ Get a free whole-house pest inspection – inside and out.
Why You Need a Bed Bug Exterminator in Salt Lake City
The bed bug is a common pest everywhere in the world, including Salt Lake City, Sandy, and across the Wasatch Front in Utah. These itchy insect hitchhikers thrive wherever people gather for extended periods of time.
Examples of public places that are notorious for infestations include hotels, motels, public transportation, libraries, movie theatres, daycare centers, schools, and college dorms.
Croach® Pest Control understands the bug's life cycle, and the multiple approaches needed to achieve complete bed bug elimination.
How Do Bed Bugs Get into Our Homes?
We pick up bed bugs as we journey through our lives, and introduce them into our homes and businesses. Bed bugs are literal couch surfers that travel on our belongings, like back packs, hand bags, and used furniture. There are preventive measures you can take to reduce the risk of bringing them into our homes. But if you suspect bed bugs, call a professional bed bug exterminator right away.
How Can You Get Rid of Bed Bugs?
Effective bed bug exterminatior treatment plans often incorporate IPM strategies. IPM (Integrated Pest Management) is a long-term approach to pest control with a success rate that far exceeds do-it-yourself chemical extermination.
Note, many insecticidal chemicals are only available to trained professional pest control technicians.
Exterminating Bed Bugs with IPM
IPM combines several professional pest control approaches, such as:
preventative measures
targeted treatments
monitoring
back-up from the residents
How Croach® Pest Control Interrupts the Life Cycle of Bed Bugs
It takes knowledge and experience to accomplish bed bug exterminator success. Your technician needs to know when to apply each kind of treatment in order to eradicate bed bugs, once and for all.
As an example, insect growth regulators prevent the nymph from maturing, which halts the reproductive cycle. Pyrethrins are effective at flushing out bugs and killing them. Desiccants work on the adult bug by drying out its exoskeleton. Certain cold-pressed oils can wipe out both nymphs and eggs.
Identifying Bed Bugs
The first step is to identify the pest. You may suspect bed bugs if you notice the following signs:
Actual bed bugs
Exoskeletal debris after molting
Rusty-colored blood spots from fecal droppings
Eggs which look like translucent rice grains
A sweet, musty odor
Bites on areas of the body exposed during sleep
Your Croach® bed bug exterminator will confirm the identify of the pest, and recognize the life stage it's in.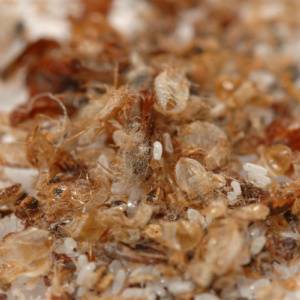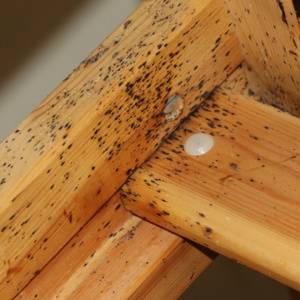 Why Does Bed Bug Treatment Often Fail?
Your first instinct may be to buy an over-the-counter insecticidal spray or a fogger. Those products might kill some bed bugs. But they have to make contact with the bugs' bodies. Bed bugs are tiny, and they're experts at hiding. The DIY products can't kill bugs that are out-of-sight or prevent eggs from hatching.
3 Stages of A Bed Bug's Life Cycle
It's important that your pest control technician understands the life cycle of bed bugs. Their stages of growth are:
Egg: Small, white to translucent in color. Usually found in cracks and seams of mattresses and furniture.
Nymph: Starts out small and nearly colorless. Requires blood meals to grow and molt. During this time, it turns larger and darker in color.
Adult: In 5-8 weeks, at optimal temperatures, the bed bug achieves maturity and begins multiplying.
Multiple rounds of treatment are necessary to completely exterminate all the bugs because the infestation includes individuals of all life stages.
Bed Bugs in Utah
Bed bugs were common in the United States up until the 1940s when DDT was introduced into pesticides. DDT indeed killed pests of all kind, and inexpensively to boot. But in 1972 its use was halted by the US government due to a number of serious consequences on the environment and humans. Additionally, insects like bed bugs and cockroaches were developing resistance to DDT, making it a less effective treatment option.
Utah State University notes 'Pesticide use alone is not recommended'.
Efficient and Effective!

Ivan was great! Very personable and kind. Respectful and genuine, he was professional right down to his shoe coverings when he was spraying interior of home area. He worked efficiently and effectively. Ivan discussed treatments and guidelines until the next service. Thanks Ivan & Nick for your great attitudes and personalities.
Read more from Kathy C.
Bed Bug FAQs
Salt Lake City homeowners have many questions about bed bugs. Here are a few of the most common questions we get from Utah customers.
What Do Bed Bugs Eat?
Bed bugs feed on the blood of humans like mosquitoes, ticks, and fleas. They come out at night and are drawn to your body heat and the carbon dioxide you exhale.
Are Bed Bugs Dangerous?
Bed bug bites aren't hazardous in the sense of a black widow spider bite with venom or a tick bite that transmits a disease. But you can experience complications if you're allergic or you scratch excessively.
Can Bed Bugs Live in a Car?
If you inadvertently load an infested piece of luggage, a backpack, clothing, or furniture into your car, some of the little bloodsuckers might stay behind in your vehicle. Once in your car, they can live a long time without food.
However, bed bugs are very sensitive to heat and cold. Their preferred temperature is between 70-80 degrees. That's why they snuggle in our most comfortable personal sanctuaries: our beds.
The extreme heat and cold fluctuations we get throughout the year are enough to kill a bed bug that happens to get inside your car. Winters in Salt Lake City mean a typical average of 25-27 degrees, whereas Utah's summer heat is always a scorcher. Bed bugs hiding in your car won't survive these extreme weather variations. In the Salt Lake Valley, only a car kept in a climate-controlled environment would be likely to suffer a bed bug infestation.
Uninvited Guests and Unwanted Risks: Secure Your Home with Pest Control!
You don't have to share your home with bed bugs! Contact Croach® pest control to schedule a free inspection today, and get a bed bug exterminator tomorrow.
SLC Service Area
Our Salt Lake City region includes Cottonwood Heights, Draper, Eagle Mountain, Herriman, Kearns, Layton, Lehi, Magna, Midvale, Millcreek, Murray, Ogden, Orem, Payson, Provo, Riverton, Salt Lake City, Sandy, Santaquin, South Jordan, South Salt Lake City, Spanish Fork, Utah County, West Jordan, and West Valley City.
Licensed, Bonded, Insured
License #4000-2689
Salt Lake City, UT Regional Office
Croach® Pest Control
9424 S 670 W
Sandy, UT 84070
385-341-2008
Business Hours
Mon 8AM-6PM
Tue 8AM-6PM
Wed 8AM-6PM
Thu 8AM-6PM
Fri 8AM-6PM
Sat 9AM-2PM
Sun Closed
Licensed, Bonded, Insured
UT Pest Control License #4000-2689